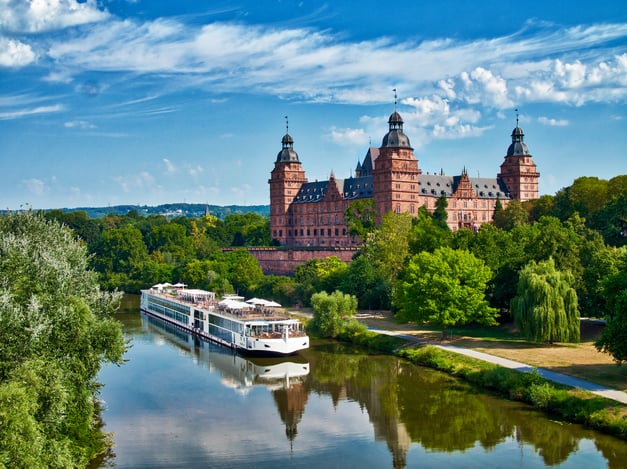 River cruising is an experience like no other cruise experience. A vacation that gives you a little taste of many cities and countries while your hotel travels with you. It's a seamless travel experience that starts even before you step onboard. Some of my fondest memories from river cruising along with many special moments that were spent with my son, include the fabulous friends we made onboard and who we continue to share authentic experiences with today!! Now, don't get me wrong, I LOVE independent travel, but for certain areas, river cruising is the perfect answer. With a river cruise there are so many reasons to love it and these four are just the start.
#1. Ship Size
River cruises aren't your typical huge ship experiences. On a river cruise you can squeeze through the small canals where huge ocean cruise ships can't go to give you a more intimate authentic experience. (I personally love the size of the small ship.) Typically, the average size of river cruise is 150 passengers, and even less if you cruise earlier in the season. You will never wait in a long line to board and disembark. But don't let the size of the ship fool you these ships are well designed and there is absolutely no sacrifice when it comes to the spacious and luxurious cabins that you get to call home for your cruise duration. Lots of the newer ships have many onboard options and feature more key amenities than ever. Think ultra-plush pillows, indoor & outdoor pools, balcony views, and private butler service.
With small cruise ships, our small cruise partners' service is always amazing. The staff onboard takes the time to get to know you and provide the most bespoke service to enhance your whole vacation.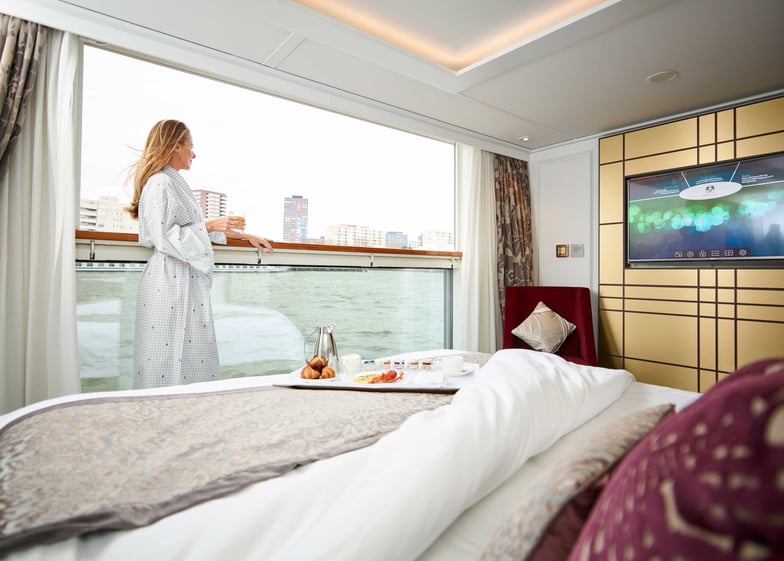 #2. Unpack Once & See More
See more countries, cities, and immerse yourself in the local culture with shore excursions that take you through charming little regions via biking or walking. Tour guides at port will take you through town highlighting some of the most historic icons - one of my favorites is how the tours are more than just seeing. They use all of our senses! Experiences such as cooking classes, wine tastings, olive oil tastings, baking, and much more. Some experiences even stay on the ship and allow you to watch the scenery slip by as you sail off to the next destination on your voyage. The authenticity of these excursions are like no other cruise and do you know the best part? You are able to partake in all these things without having to check in & out of hotels or rush to catch a train. All you have to do is unpack once and enjoy!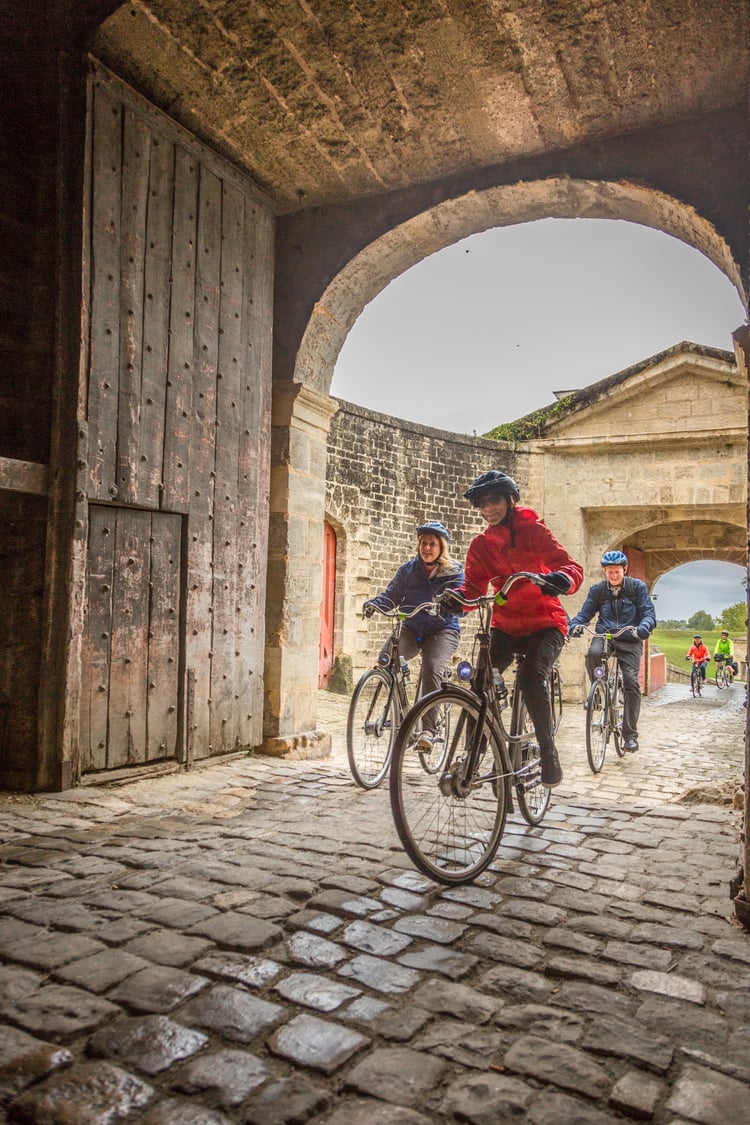 #3. Meal Time
Meal time is always a special treat when you are onboard. I think we can all agree that we bond over good meals, even more so when we travel. With five star service, beautifully plated food presentations with all with a local flair and panoramic views --it's an experience in itself. Many river cruises offer open seating which gives you the option of eating alone or share meals with our favorite friends. Whether you're into wine tasting or local street food, you'll get an exceptional culinary experience both on the ship and at every destination. And the staff is remarkable no matter the cruise line. Anything you want or can possibly imagine is delivered before you can even ask. When we cruise we actually can't wait to see the dining staff each day. Many times it's the small gestures, but that is what is so special...they noticed the little things and remembered our wine of choice.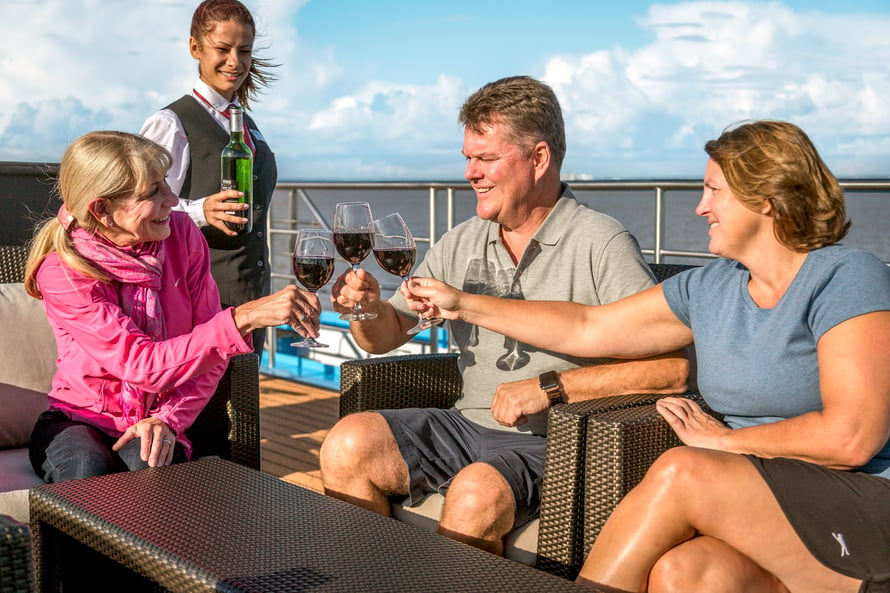 #4. Variety of Experiences
Every country you visit has their own special experiences no matter how you choose to visit. The beauty of river cruising is the close proximity to some of the most incredible cities and towns right along the river. With some exquisite excursions you'll be able to take your pick from biking through the countryside, exploring trendy neighborhoods, visit a local brewery, hike to a castle, take a local cooking class or museums that highlight local culture (and so many more to choose from!!!). Not to mention all the onboard activities available during your luxury river cruise experience.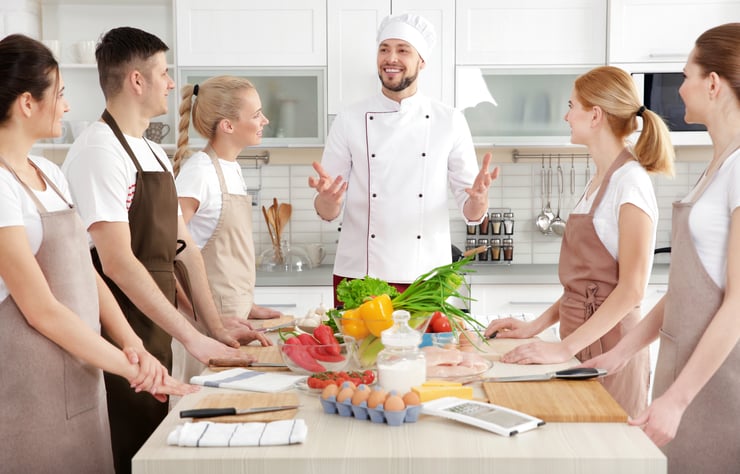 #5. Luxurious Accommodations
What's not to love when your home away from home for a 7 (or 10, 14, 21+) -day cruise is a luxurious suite with a balcony that overlooks some of the most iconic sites to see along the river. Each river cruise line has their own design with distinctive themes, personally selected artwork & furniture, each element, down to the smallest of details, are thoroughly thought out to make your accommodations as comfortable as possible.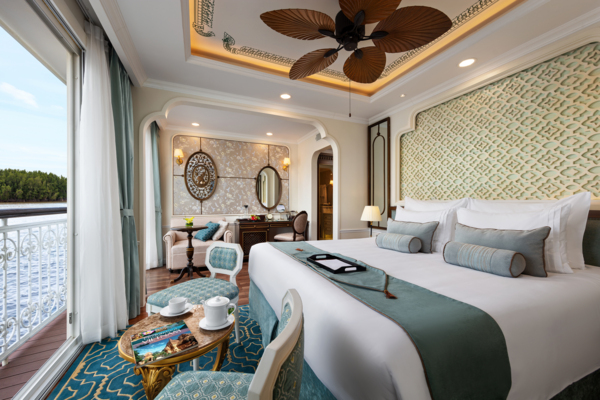 Two thing you can always expect no matter the river cruise is bespoke service and incredible views. Both are equally amazing! The service and views are truly priceless. Have you always dreamed of a Christmas Market cruise? Experiencing the old world Christmas traditions and winding through the aisles of Christmas Markets? It's not too late to experience a 2021 Christmas Market cruise or plan for 2022!!If you're ready to have a luxurious river cruise vacation experience of your own redefined by VIP Travel Experience we are here to help you get started and give you all the travel tips you'll need to know about traveling during times with Covid.
Email us tammy@viptravelexperience.com and justin@viptravelexperience.com to get in touch so we can get started when you're ready! It's a big world out there and we want you to experience it.