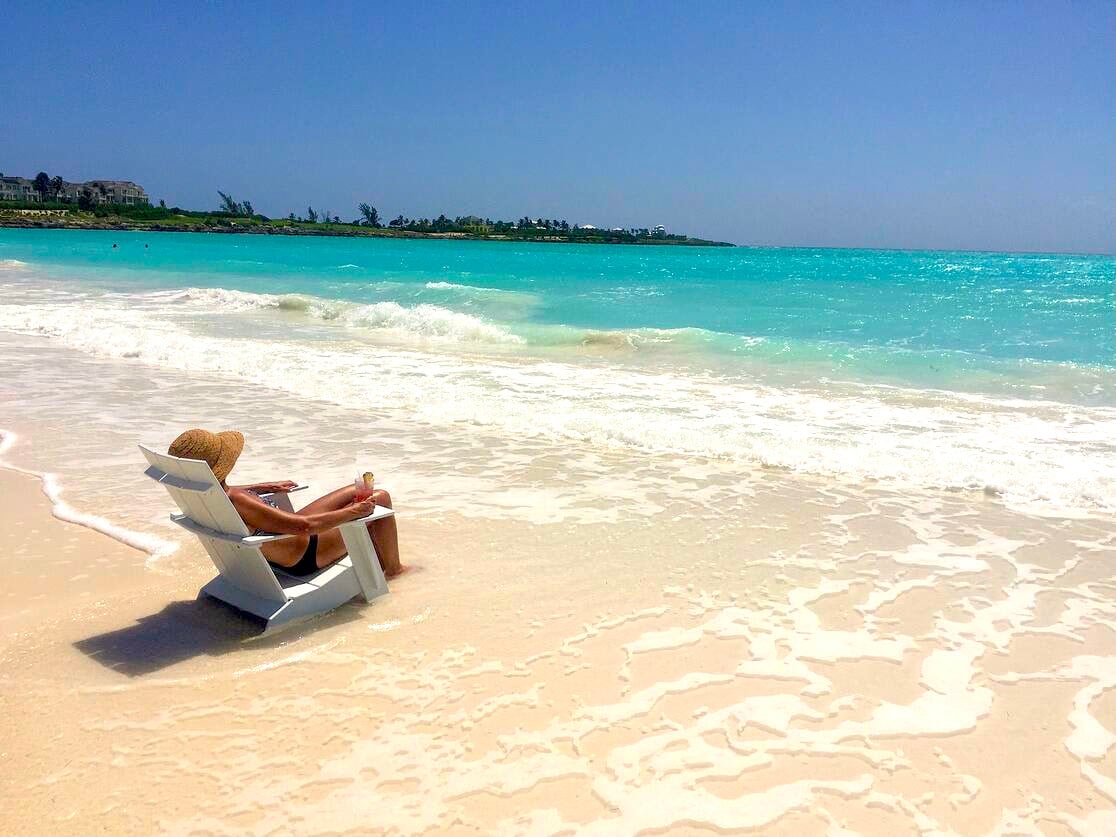 Exuma has some of the world's clearest water and white, sandy beaches. This time of year I think we can all agree that we are ready to drop everything to travel to a luxury resort, get some sun and Vitamin Sea! And that's why the Caribbean Islands are at the top of our minds. But which island is right for you? And with new travel protocols and requirements a lot of people are wondering, "How will I know everything I need to know to get there?" While we love a good handful of islands and are monitoring the covid protocols daily, I think after today you'll have your heart set on this beautiful island in the Bahamas, Exuma! And don't worry, we take all the mystery and confusion away of planning your next post vaccine vacation.
Close your eyes and let's travel to Exuma...imagine you're lounging on a long white beach with windex water as far as your eyes can see, basking in the sun while a gentle sea breeze blows through your hair, listening to waves as you feel them wash over your toes. Heaven on earth if you ask me!
What sounds like paradise to you? If you are still looking for a spring or summer vacation getaway we're here to help you plan your luxury travel experience. If you need help deciding which island is right for you, we're ready to help you find the perfect fit. If you enjoyed the little travel dream to Exuma above, it may truly be the perfect Caribbean island for you and here are five reasons why!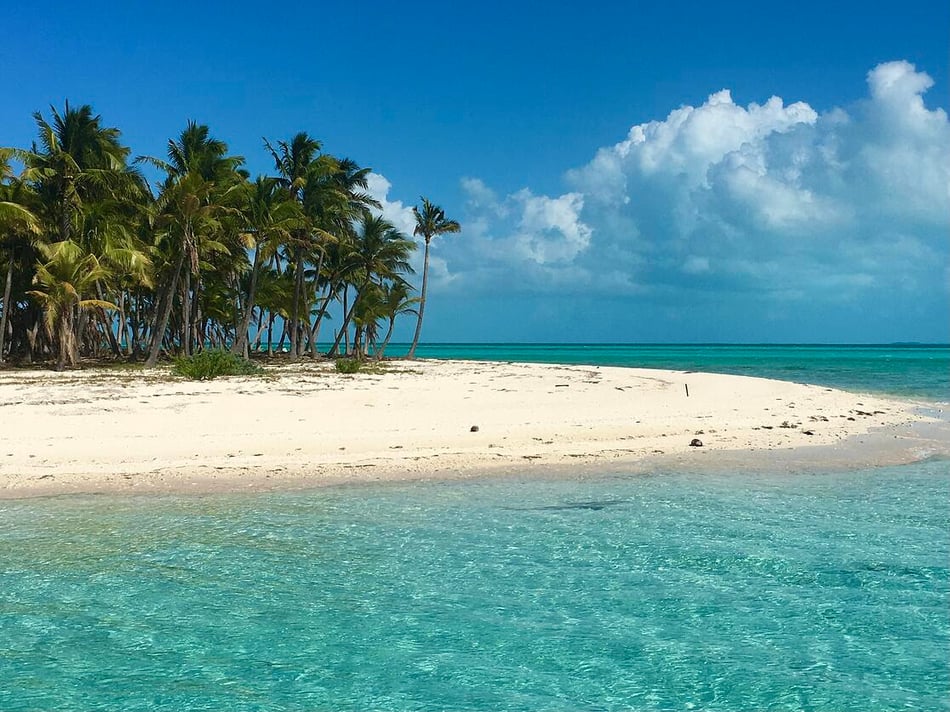 1. Seclusion


While Exuma may feel like a far out dream it really is close to the USA which makes travel rather easy. You have probably visited the Bahamas already like I have, but, Exuma is something quite different...a place that feels like a private island dream. When I first stepped foot on the sugary white beaches of Exuma, I felt like I was on a private island and I was seeing the 50 shades of Bora Bora water. After I removed my polarized sunglasses, I realized it wasn't QUITE that Bora Bora water, but it was absolutely the most amazing water and beach I had visited in the Caribbean. Let's be honest, there is NOTHING like Bora Bora, but if that's not possible for you yet, Exuma is a top pick.
Exuma was (and is) the perfect vacation experience for us, and appeals to many couples celebrating anniversaries, honeymoons, as well as friends and golf groups. Exuma is much more appealing to those looking to get away from it all, no distractions (except maybe amazing GOLF) and so many vitamin SEA options.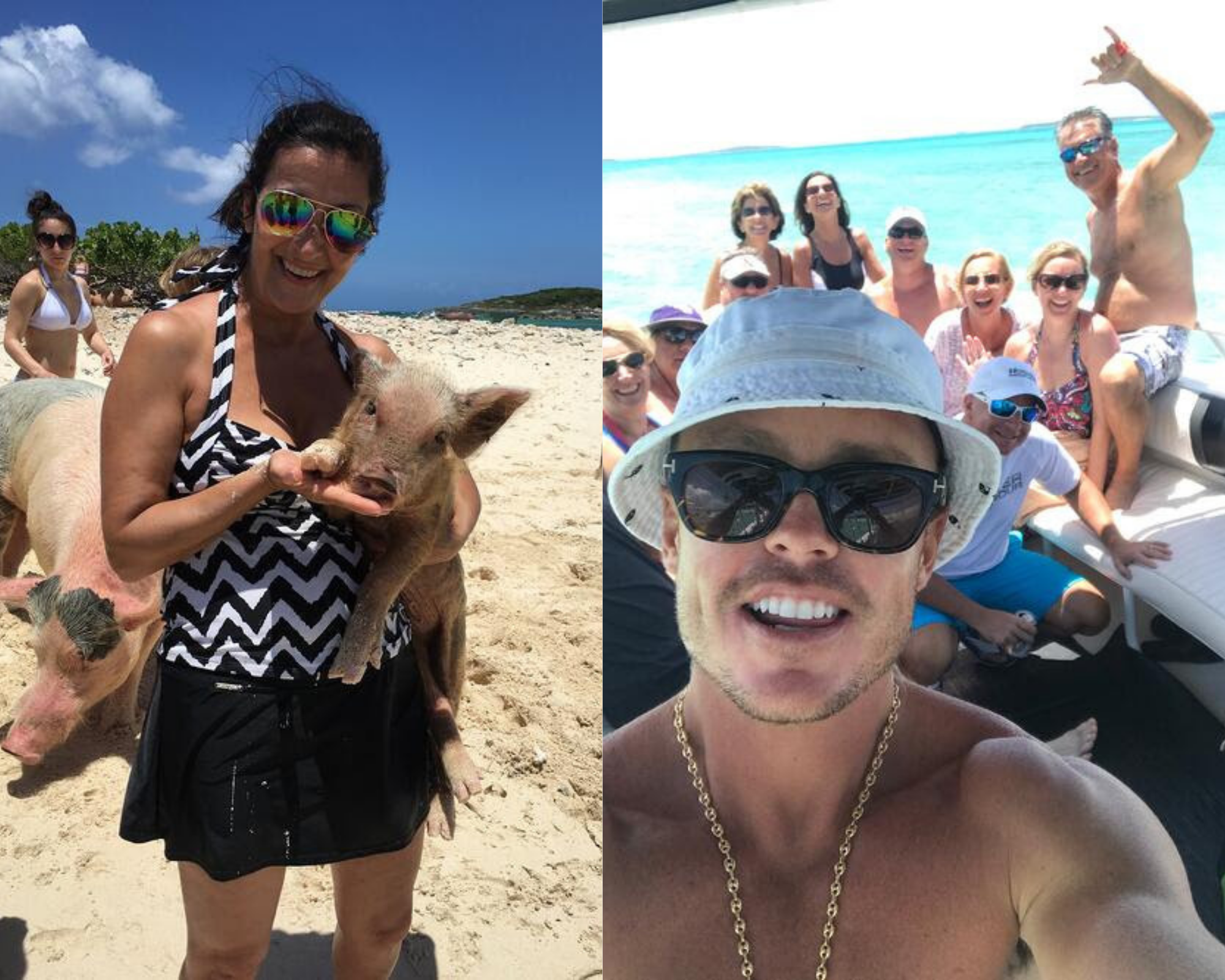 2. Unique Excursions
Have you visited an island of swimming pigs before? Many have heard about it on television and are dying of curiosity. Yes, it is true. There are many rumors surrounding who brought the pigs and you can take your pick which story to believe, but most agree the pigs learned to swim by associating their feeding with the sounds of the boat engines arriving on the island. Soon the pigs began to wait in the ocean as they awaited their supper. Eventually, they surprised their caretakers and began swimming out to the boats for their food. When your best friend has loved pigs from childhood, it was an absolute MUST for our trip. If you aren't really excited about swimming with the pigs on your next travel experience, I would still encourage you to go. You can witness from the boat and it's actually a fringe benefit of the most amazing boating day you will experience with blow holes, private cays (islands) and many shades of blue. Definitely a highlight as I think of the many excursions we have experienced on our Caribbean travels.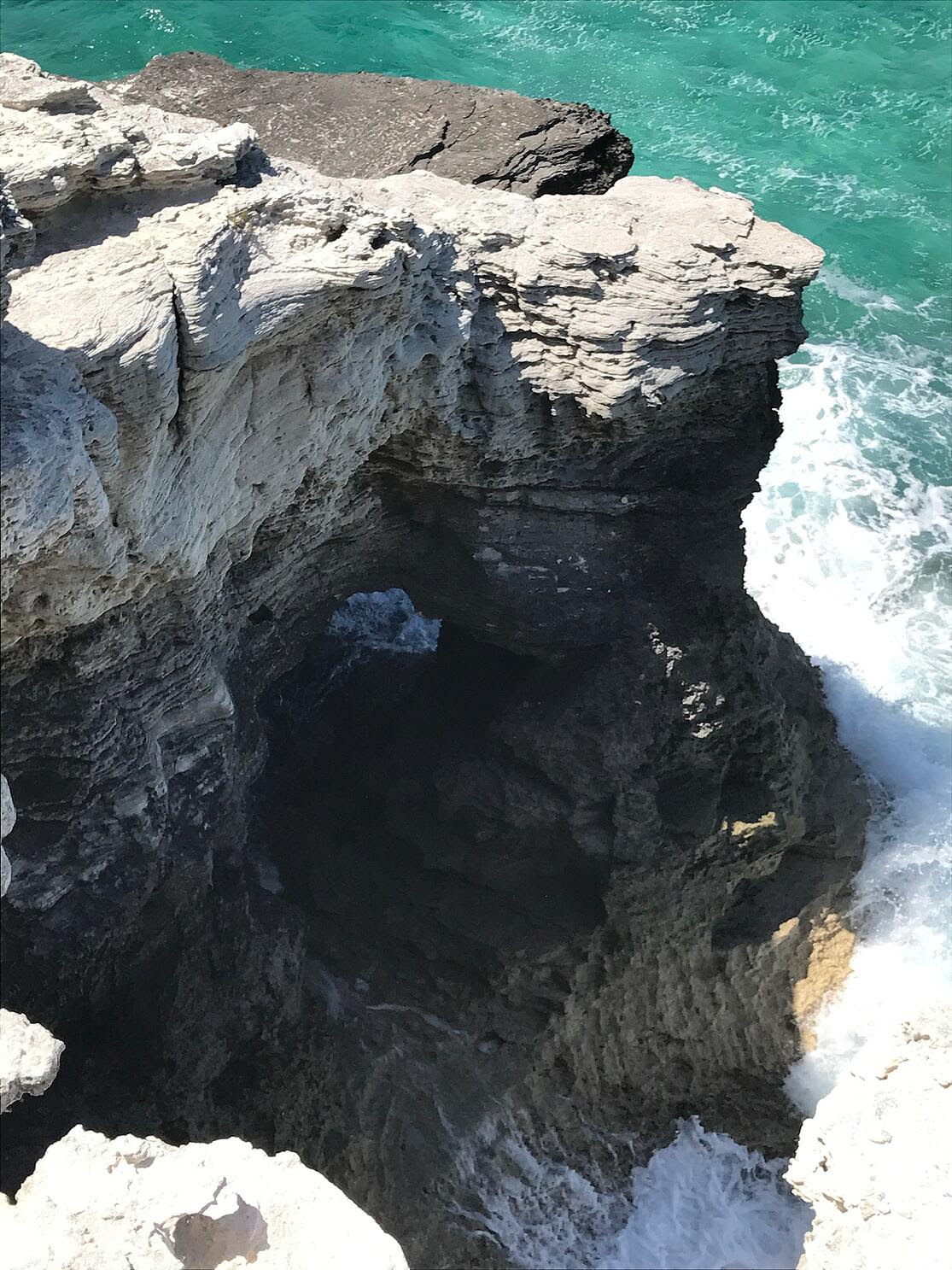 3. Emerald Green Cays
It is hard to describe but the water is emerald green in areas and crystal clear blue in others. It is quite dreamy to see, snorkel and will make you want to dive right in. The water is a see to believe kind of experience.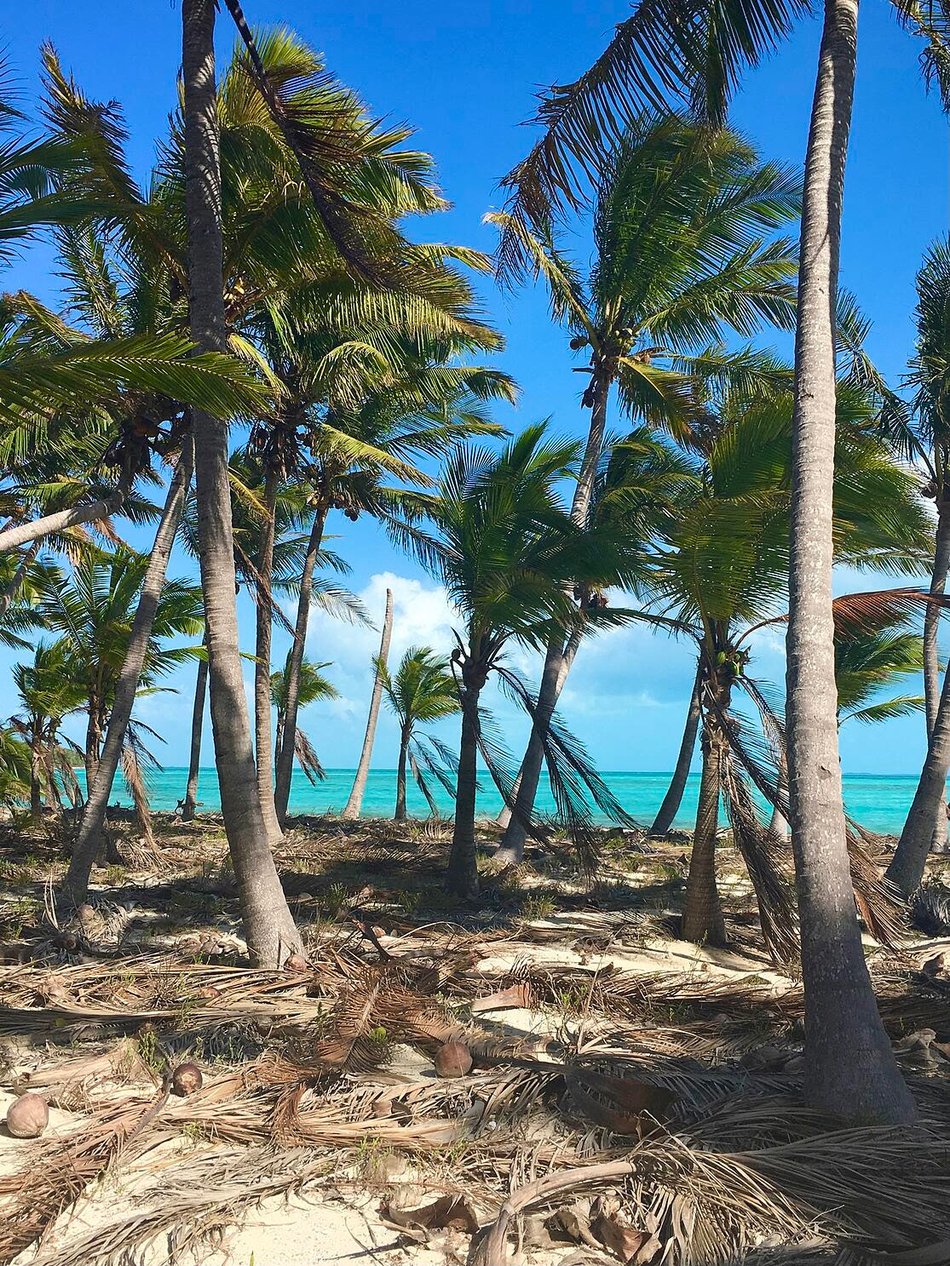 4. Island Hopping and Snorkeling
Vitamin SEA is everywhere. Spend a day (or two) exploring the island by boat, you will quickly see it is very far from ordinary Caribbean excursion. Your captain will know exactly where to take you to surprise and amaze you. There are 365 cays that make up The Exumas. The photo above was a brief stop on our tour and was used in the filming of Pirates of the Caribbean (how cool is that?!). Another notable cay you may recognize is Staniel Cay (Thunderball Grotto) where The James Bond movie Thunderball was filmed as well as Never Say Never Again and Splash. And don't be surprised if you see some movie stars on some of the islands, Faith Hill, Johnny Depp, Oprah all have islands nearby.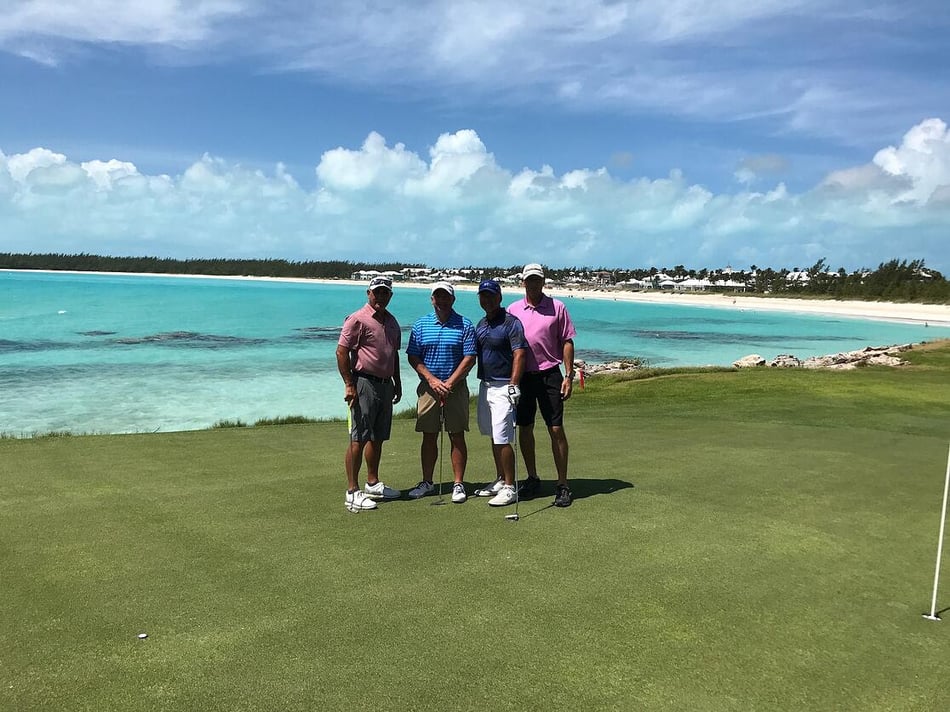 5. Golf
And finally we get to the top reason this is my husband's favorite island. The golf is an amazing championship course designed by Greg Norman with no shortage of challenge or gorgeous ocean views. There is no other course that he has insisted I come ride in the cart to see the dramatic views on the edge of the scenic Emerald Bay peninsula. And I must say I was beyond impressed. There was one particular view that I seriously felt like I was overlooking the cliffs in Ireland.
One question we frequently get is: Should I book direct or book through you and what is the difference? We have toured many resorts in many areas and we like to get to know you and your preferences and interests to provide an unbiased recommendation of which resort may be the best fit for you. In addition, the majority of the time the price is the same as online (sometimes we may have special relationships which offer a better value for the same money). However, the biggest reason to book with VIP Travel Experience is that we are YOUR travel concierge, we specialize in these areas, we have inside contacts and relationships that aid us in creating the best experience possible for you! We also provide high touch customer support before, during, and after your trip. We would love to streamline your vacation process, contact us when you're ready to travel.
VIP Travel Concierge.
Where to stay in Exuma?
Fowl Cay Resort
Escape to your own private island in the Exumas. Six all inclusive luxury private villas are located along 50 acres. Enjoy a fully stocked fridge and cupboard at your villa, premium alcohol beverages and soft drinks at the Hill House, golf cart to navigate the island, fresh water pool, powerboat for your personal use with unlimited gas, sports, fishing, game equipment and amenities on the cay Treat your family or friends to this ultra luxury private island getaway.
Sandals Emerald Bay
all inclusive. Eleven fantastic dining experiences with international chefs for an authentic tasting around the world while enjoying your stay on the secluded 500 tropical acres in Great Exuma. And we promise you will never be thirsty either. Also included are many water sports scuba, snorkeling, sailing, paddle boarding and more.
If you're wanting to explore Exuma I would love to share my experience with all my tips and tricks in more detail
It's a big world out there and we want to help you experience it!
Email us tammy@viptravelexperience.com and justin@viptravelexperience.com to get in touch so we can get started when you're ready!