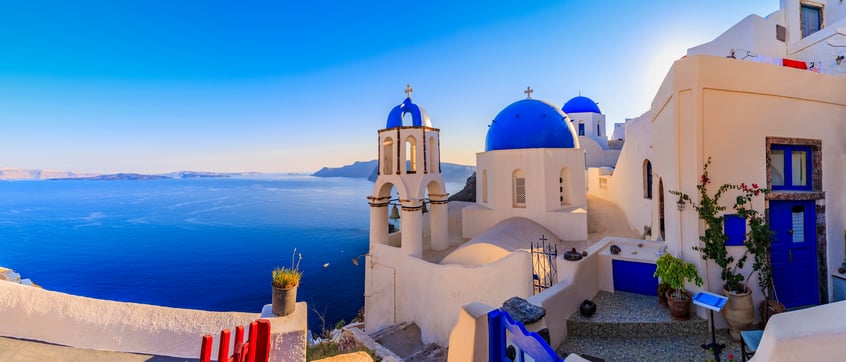 Greece has always been an ideal luxury Mediterranean vacation destination. As it is located in southeastern Europe, with over 2,500 islands (230 inhabited), you may not know how to choose which one to visit first. There is so much to explore, taste, and see it can be hard. We at VIP Travel Experience, pride ourselves on taking the time to get to know you so we can customize each luxury vacation by matching you with the best islands based on your interests, travel style, and preferences. Here are a few examples as to what there is to love about Greece...
Greece is a country with great, ancient history, one that gave birth to the concepts of democracy and philosophy, the Olympic Games, and drama. The landscape offers a picturesque variety, from whitewashed homes and blue domed churches to 18th century architecture and traditional authentic villages in the mountainous areas. And you might be surprised to hear, or should we say fewer people realize, what a diverse adventure scene Greece has to offer. Greece is surprisingly a travel playground with plenty of outdoor activities such as yachting and sailing to hiking and biking. The complexity of a destination is able to provide the best luxury vacation for any kind of traveler. Here are a few examples:
Best Couples Getaway:Folegandros does not get the crowded touristy scene as most other Greek towns, which is why it is a beautiful hidden gem - it is a treasure concealed in the Cyclades archipelago. There is a broad selection of restaurants and cafes to live up to your Greek paradise dreams. Chora is the main village and has been preserved well, noting open landscapes and clifftop housing. The blue-and-white houses built on a steep plateau in Chora, is a feast for the eyes. Highly recommend climbing up to the belvederes and admire the view of the Aegean and the port of Karavostasi. The jetty in Karavostasi port leads to a lovely beach where you can have fun in the turquoise water. Higher up, Ano Meria, a village surrounded by terrace farms, offers a magnificent panorama over the sea.ped with butter and cheese (no cream) for a lighter dish that's healthy, not harmful.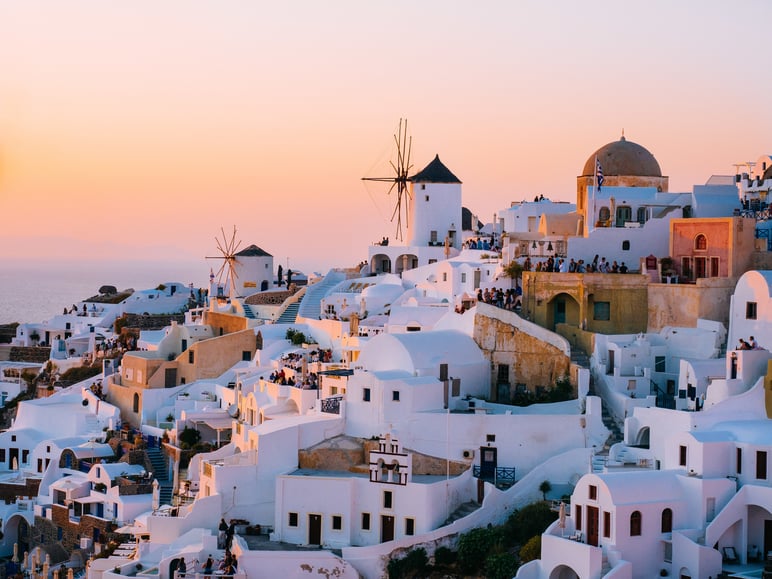 Best Food: Cretan cuisine focuses on all-natural ingredients and can be enjoyed at any local tavern throughout the islands. Some of the most authentic dishes include Dakos, Gamapilafo, Mizithropita and Apaki. All are absolutely worth trying...when in Greece!!
Best Traditional Village Life: The island, Naxos is the largest of the Cyclades and has a little over 6,500 inhabitants and a bit over 20 small villages. Naxos has ancient towers, paved streets and has maintained its unique Venetian architecture that will excite all kinds of history buffs.
Best Dramatic Views: The southernmost of the Greek Cyclades, has to be on of the world's most dramatic landscapes. Its unique topography is the result of a massive volcanic eruption over 3,600 years ago, blowing the middle out of the island, creating a caldera (volcanic crater filled with deep blue water) from the Mediterranean Sea. Known for its cobbled alleys, white cubic buildings, gourmet restaurants and unforgettable sunsets.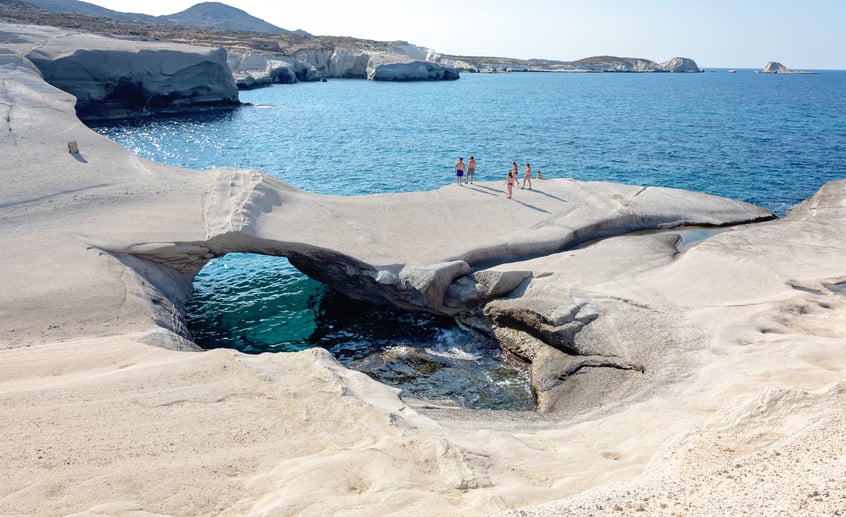 Best Faith Based: Follow the footsteps of Apostle Paul, experience Greek history and culture and learn more about early Christianity and the New Testament. Athens, Thessalonika, Patmos, Corinth are just a few.
Best kiteboarding and windsurfing: With gusty winds that can be seen from a mile away, Paros island is the best known for kiteboarding and windsurfing sports goers. Santa Maria, Prassonisi and Pounda are the main beaches where you can catch some of the best wind to get your board moving.The Thalasea Sports Center is the bay of Mikli Vigla and is a very popular hub for the sport as well.
Best Beaches: Located in the Aegan Sea, Milos is a beautiful volcanic island that is rich in minerals as well as rich history. Firopotamos, Kastanas and Paliorema are some top beach destinations in Milos. The white-washed Cycladic villages and black sands are picturesque backdrops. Although some may be only accessible by boat, there are over 80 mini beaches throughout Milos that you can explore.
Best for Nature Lovers: Ikaria has some of the World's most pristine and untouched nature territories. It has been identified as a place that promotes life longevity and better overall health.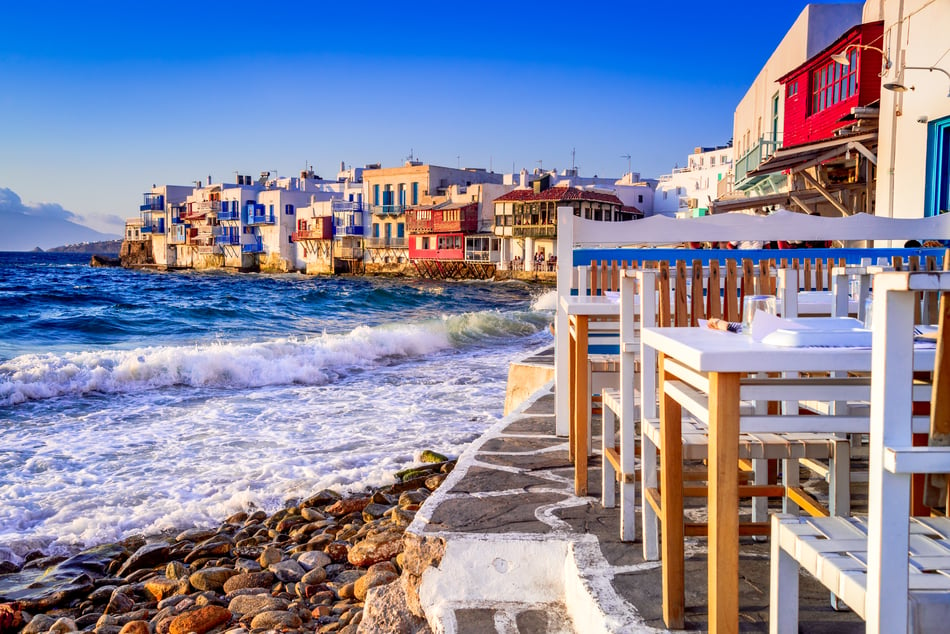 Best Nightlife:
Mykonos, also known as "The Island of the Winds," is world renowned for their vibrant nightlife. Little Venice and Paradise Beach are popular party destinations - some of the best for living your best night out life. Working with a travel advisor, you will want to ask which beaches are family friendly to ensure the best concierge service if you are traveling with family. July & August are the main months for tourism, but also sometimes the wildest of parties. The absolute minimum stay for a quick look at the main sights would be 8 days, you can't overlook a few days needed to simply relax in this warm climate and watch the world go by. Yes, we agree, it's really hard just to pick a couple and then how best to island hop without losing days to transportation between each one. The best way to enjoy the best, most relaxing and seamless luxury vacation is to let us plan each step of the way. Start by CONTACTING us and let's begin our discussions about what makes YOUR perfect Greece Vacation. If you're interested in our 2023 Southern Suitcase trip let us know by clicking here. And keep an eye out for an email to attend a virtual event where Justin will walk you through the entire itinerary and answer any questions you may have.It is the mission of VIP Travel Experience to take you beyond the highlights for bespoke or unique experiences. VIP Travel Experience specializes in custom-crafted vacations! Let us help you plan your next dream adventure! If you're ready to have your luxury vacation redefined by VIP Travel Experience we are here to help you get started and give you all the travel tips you'll need to know about traveling during times with Covid.Email me at tammy@viptravelexperience.com to get in touch and get started.
It's a big world out there and we want you to experience it.
Email us tammy@viptravelexperience.com and justin@viptravelexperience.com to get in touch so we can get started when you're ready!