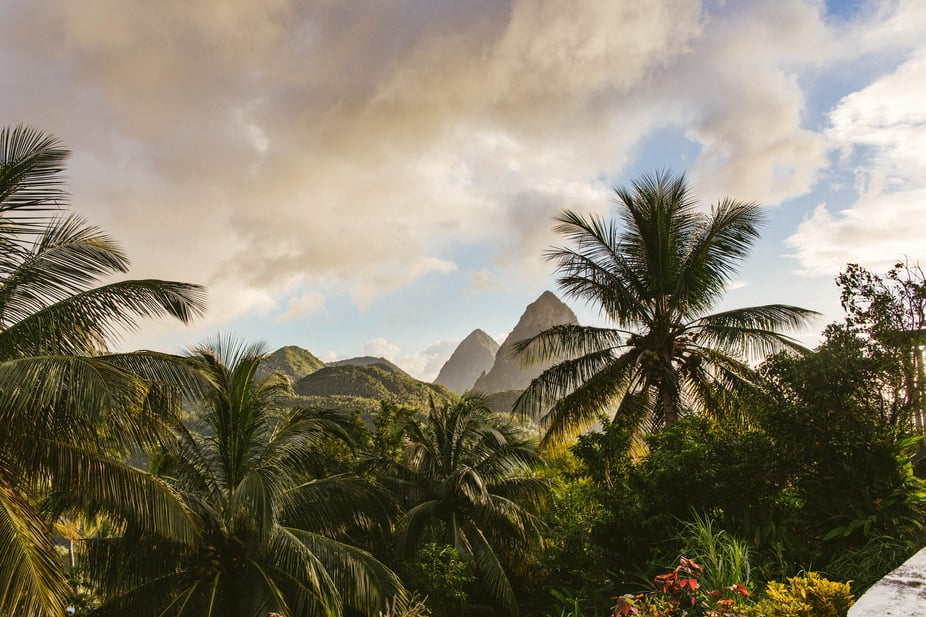 The idyllic island of St. Lucia is a sensory and luxury delight in so many ways. This island is full of beautiful scenery, scents, and activities that will have you loving every inch of this incredible destination.
From the UNESCO world heritage Piton Mountains, to the volcano that you can sail right into, the beautiful palm-fringed beaches and stunning resorts. Your senses will be on overload (in a good way)!
St. Lucia was (and is) the perfect vacation experience for us, and appeals to so many couples celebrating anniversaries, honeymoons, as well as families going for vacation. Whether you are an active traveler, traveling for romance, or looking for a little R & R St. Lucia is meant for you.
St. Lucia has so much to offer so many different kinds of travelers and that's why we love it. An avocado-shaped island 14 mi/23 km wide by 27 mi/43 km long, St. Lucia is one of the greenest and lushest areas in the Caribbean. The island is mountainous, except for the northern area around Gros Islet and Rodney Bay. Most of the resorts and towns are located right along the shore.
The twin volcanic peaks, Petit Piton and Gros Piton—probably the most-photographed mountains in the Caribbean as well as a UNESCO World Heritage site—are on the southwestern side of the island. Whether you are looking for some adventure (see me on the zipline in the video below) or a relaxing experience St. Lucia has what you need to getaway and escape.
Savor the scrumptious cuisine and the friendly St. Lucians. Personally, I was amazed at the variety of land, sea and air adventures, and we also scheduled time to simply relax. To take in the AH-mazing beauty of a destination this is perfect just about every travel style.
Here are some of our favorite highlights to help you navigate your dreamy, luxury St. Lucia vacation...
Helicopter and/or private car shuttle from airport to resort concierge service

Catamaran cruise (it's a must if you ask us!)

Private driver around the island to see some of the most incredible panoramic views of the Pitons and the Caribbean

Sulphur Waterfalls

Zip-Line in 35 acres of rainforest (truly incredible)

Snorkeling

Sunset Cruise

Hike to the lookout of Pigeon Island

Savor part of your trip for free time each day to just explore on your own, around your resort and nearby towns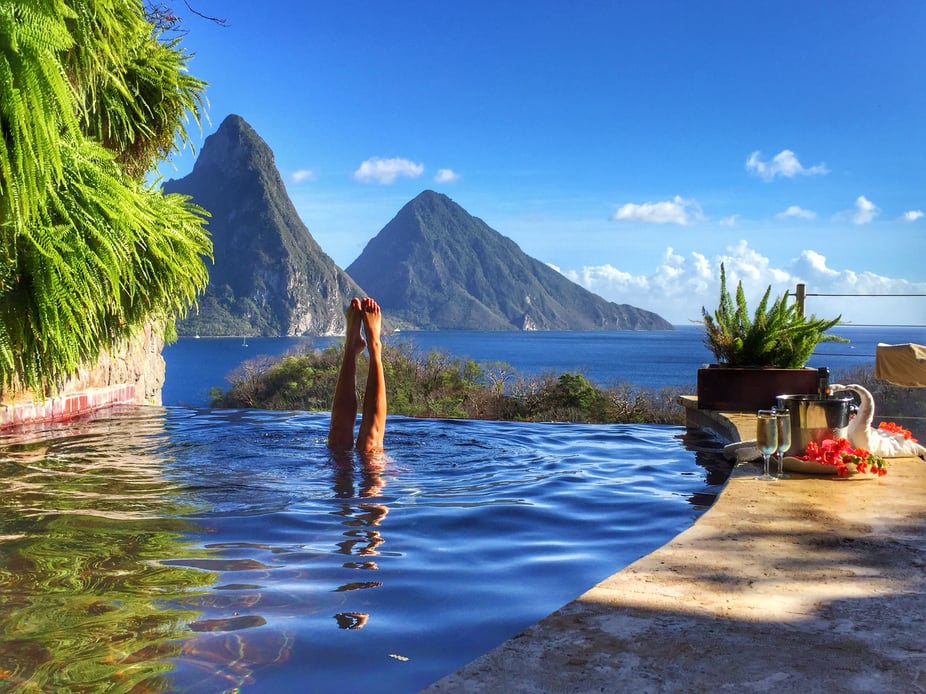 By now you will have discovered your favorite Thai dish. It might be tom yum goong (spicy shrimp soup), som tam (spicy green papaya salad) or pad phuk tong (stir-fried pumpkin). You will also be accustomed to the world of scented luxury spas and wondering how you will survive back home without your daily Thai massage.
One question we frequently get is: Should we be leaving our children at home? Absolutely not! I have toured several resorts on the island that are made for family travel. All tours and excursions are more than family friendly.
My favorite thing about visiting St. Lucia is the private drive across the island. Having that private experience gave us the ability to see much more and choose which tourist spots we wanted to see and which ones to pass up! We also were able to tour smaller and more quaint spots that don't allow the traffic from large tours. Up close and personal views of Gros Piton.
Where to stay?
We love learning as much about our clients as possible to best match the resort or hotel with their personality and preferences. Not everyone will enjoy or appreciate the same resort as the next so its best to discuss your preferences and expectations with a luxury travel advisor or travel concierge for the ultimate Luxury St. Lucia experience.
VIP Travel Experience has relationships with these luxury partners and booking through VIP Travel Experience has its rewards.
Jade Mountain (pictured above)
You may choose to arrive at the spectacular Jade Mountain by helicopter – zooming between the Piti and Gros Piton mountains in this iconic landscape. This is the only luxury resort with its own private heli-pad and a view of both peaks on Saint Lucia. Every aspect of Jade Mountain's organic design is equally dramatic, from the suspended sky bridge to your decadent sanctuary (one of just 29 accommodations), where your infinity-edge swimming pool seems to float in space. Guests enjoy the exclusive pleasure of dining on fresh, flavorful cuisine from award-winning chef Allen Susser and stargazing from the otherworldly Celestial Terrace. Luxury travel at its best.

Ladera ResortPerched above the port town of Soufriere, located on the Southern end of St. Lucia, Ladera is a romantic and exclusive hideaway. The resort is set on a forested ridge, 1,100 feet above the sea overlooking the World Famous Volcanic Piton Mountains and the Caribbean Sea. The mission is to offer an unparalleled guest experience that is quintessentially Saint Lucian, one that embraces the magnificent views and offers harmony with the surrounding natural beauty and bounty of the island. Each of Ladera's 32 suites was intentionally built without the fourth wall to allow the astounding views of the two volcanic peaks, and the azure coastline below. The open wall leads to a private pool, panoramic views and is surrounded by lush tropical landscaping. The decor is distinctive and naturally aesthetic locally woven textiles and custom crafted wooden furniture.
Sugar Beach
Winner of the Travel + Leisure "World's Best Award" and ranked among the Caribbean's top resorts by Condé Nast Traveler, Sugar Beach, A Viceroy Resort has a legion of loyal fans. And rightly so for its lush rainforest setting, shimmering white sands, and emerald gardens, not to mention its views of the UNESCO World Heritage-listed Pitons. Spread across approximately 100 acres, the resort exudes a timeless colonial charm, with four-poster beds, clawfoot baths, and butler service in its luxurious accommodations; villas feature private patios and plunge pools. Water sports are plentiful, and the spa is otherworldly.
Sandals, Grande St. Lucian
Looking for an overwater bungalow that is closer to home? We have been able to help several honeymoon and anniversary couples check off "Overwater Bungalow". Contact us, your VIP travel concierge, to find out how this may be possible for you.
If you're ready to travel to St. Lucia I would love to share my experience with all my tips and tricks as well as help you maneuver any covid regulations. Email me at tammy@viptravelexperience.com to get in touch or to get started.
Are you ready to plan your Luxury VIP Travel Experience trip of a lifetime? Let us know by clicking HERE.