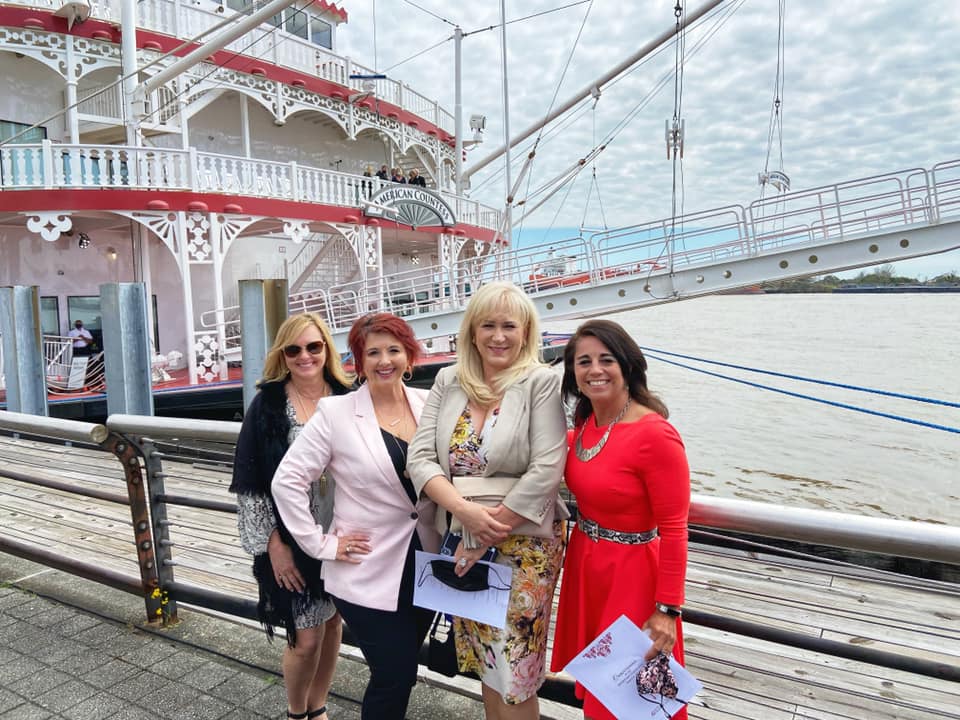 Have you heard of the American Queen Steamboat Company? They are a company with a magical fleet made up of authentic paddlewheelers cruising on American rivers including the Mississippi, Ohio, Cumberland, and Tennessee. So when I was invited to attend the Christening in New Orleans of the newest luxury vessel, the America Countess, I was over the moon.
The American Countess offers an exciting heartland and Mississippi River luxury travel experience with regionally inspired fine dining, broadway-caliber entertainment, comprehensive-guided shore excursions, and of course the most authentic paddlewheel riverboat ride.

The Christening of any new vessel is always a super special occasion. It's a mixture of celebrating years of planning and executing a lot of hard work (add during covid to that)! This kind of ceremony is an emotional ride for all of those who put so much time and effort into perfecting all the little details and the Christening of the American Countess was just that. Pure joy to watch. I could feel the all the emotions from those standing proud watching the ceremony. As a luxury travel advisor, I know the pain and curveballs we have had to face during this pandemic with many uncertain events. It's been truly heartbreaking having to cancel dream trips clients had planned so far in advance. We are still experiencing the frustration and heartache of rescheduling trips three, four, five times. Covid has hit the travel industry in more ways than one and as a whole it hasn't been fun. But as we start to see hopeful progress in the travel world we are starting to feel the excitement and joy creep back into what we do - plan travel for YOU! Your personal luxury travel concierge.

HOPE is why I was at this Christening last week I was so touched and affected by the energy I felt from being there. As I was listening to the owner, John Waggoner, lovingly talk about the trials and tribulations that went along with putting together American Countess (such as stripping down, cutting the former casino boat in half and adding an additional 60 feet to the center of the actual paddlewheel before being completely redesigned, updated and outfitted) you could hear the sheer pride and merriment he felt. Mr. Waggoner spoke about finding this "diamond in the rough" with her high ceilings, spa, restaurant spaces, and opportunity for every amenity possible. He also expressed his gratitude to Gulf Island Fabrications, a Houma, Louisiana shipyard, for the dedication of over 500 skilled employees working around the clock to ready the Countess.


It's tradition for the Christening of a new ship or vessel to have a God-parent. For the American Countess, the Godmother is a woman named, Angie Hack, the daughter of the Waggoners. The speech she gave at the ceremony was so heartfelt. She talked about "Papa John" and his passion for river cruising and how their family will always share many memories of his endeavours. It was clear how happy it made her to see this day come to fruition for him.
After Ms. Hack smashed the bottle of bourbon on the hull (as a sacrifice) to ensure the safe travels for all it's guests and crew members the emotions starting flowing even more. The crew started marching single file, heads high as the proudly boarded the riverboat. Happier than ever to be back on board. Back to their jobs, doing what they love - welcoming guests, serving beverages, entertaining, sharing the journey, maintaining the engine - something they haven't been able to do for a very long time. It's been over a year since they have been able to embark on this journey and it was a pleasure to watch them back in their element. It was a sentimental experience that I will cherish watching.
Following the ceremony, American Countess embarked on its maiden voyage, a six night journey from New Orleans to Memphis.
And as I continue to think about this Christening the more I can relate to how they've been feeling - the crew, the owners, the business as a whole. This past year has been one filled with struggle, heartache (and headaches), loss, pain but also it's been a year of growth, reflection, and adjustment. I applaud the American Queen Steamboat Company for their dedication and hard efforts of moving forward, confident and cautiously, with passion. Lighting the way for all of us to follow!
If you're wanting to experience the hopeful world of travel I would love to share my experiences with you along with my tips and tricks in more detail. Email me at tammy@viptravelexperience.com to get in touch and get started planning!
It's a big world out there and we want to help you experience it!