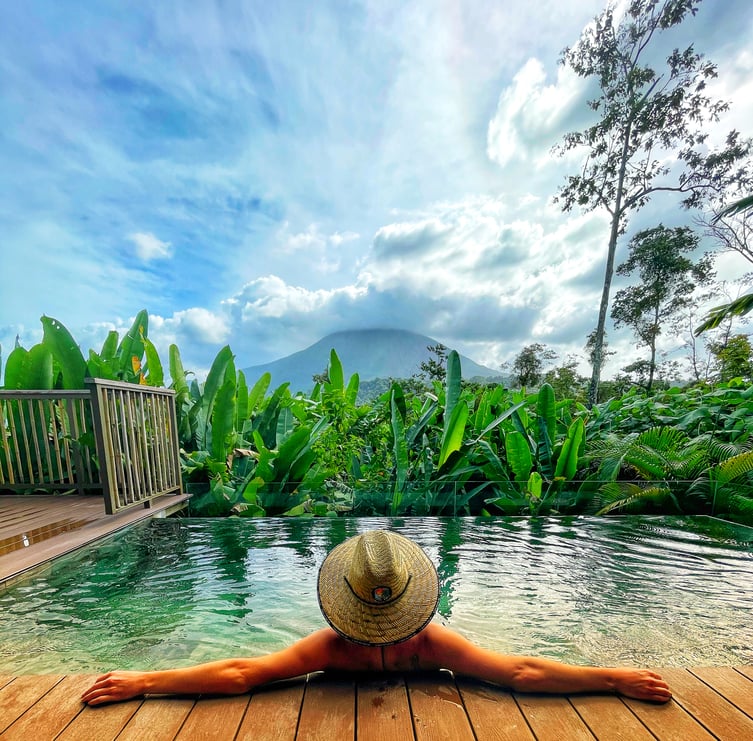 Day 1- Swiftly to San Jose
The first day waking up early and heading down to New Orleans to catch my international flight to Costa Rica. Regardless of which airport you enter into the country customs and immigration is very easy and quick as they are both small airports. We stayed one night in the city at a beautiful, centrally located hotel where they hosted us for a delicious dinner in the courtyard. We were also visited by the Minister of Tourism to give us some insight into the tourism industry in Costa Rica. The safety protocols of my suppliers and hotel staff were adhering to the responsible traveler safety protocols and procedures set by their health administration. I felt way more at ease traveling around Costa Rica than I did back in USA grocery shopping.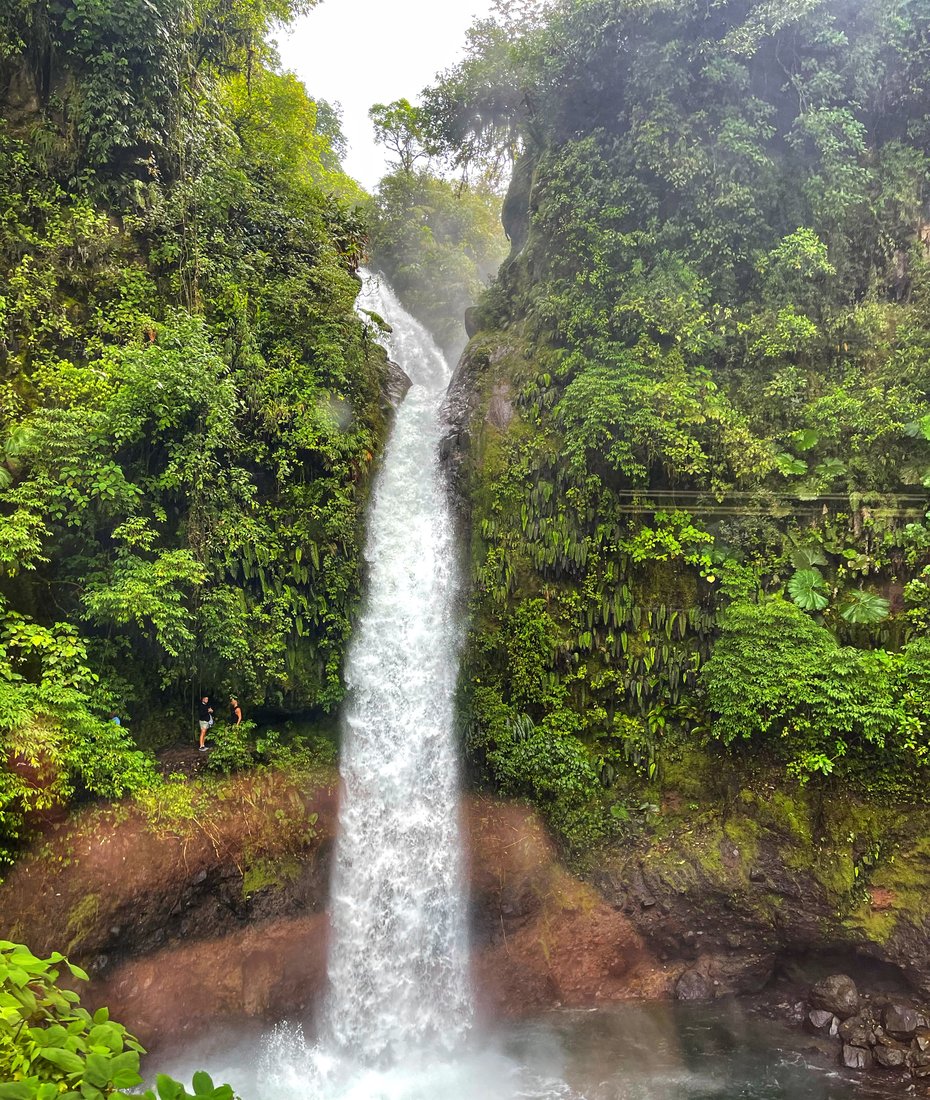 Day 2- Coast to the Cloud Forest
The next morning, after breakfast we headed off up into the mountains to visit La Paz Waterfall Gardens. A beautiful, private ecological park home to many species of plants, birds, and other wildlife. We had an amazing hike around the property leading past 5 HUGE waterfalls perfect backdrops for pictures. We had lunch here and then we were off to our accommodations for the night, El Silencio Lodge. This was such an exquisite property set amidst the canopy of the surrounding cloud forest (higher altitude than rainforest). This property is where you'll find the perfect mesh of relaxation and romance. Private villas each with their own patio and hot tub. After getting settled into our rooms we had a complimentary local rum tasting aged to perfection. This is where we truly gave in to what the pura vida lifestyle had to offer.
Day 3 - Waterfalls, Zip-lining, Rappelling...Oh My!
I had breakfast delivered to my room wanting to feel pampered before getting my day started. As travel agents we are always encouraging you to step out of your comfort zone for that is where true happiness resides. With that notion in mind I try to find one activity or experience to help me conquer my fear of heights, and let me tell you I FACED MY FEAR ALRIGHT! We started the afternoon with a leisurely hike from the resort to 3 waterfalls only about half a mile to get to the last and biggest one. After hiking, I chose to do the zip lining and rappelling down a waterfall for my activity. The zip-lining was amazing I couldn't believe the scenery while soaring above the tree tops. To finish off my day I decided to really test myself and my fear of height by repelling down running waterfall. This was by far one of the most exhilarating and thrilling experiences I have ever endured. I can't explain the relief and pride I felt when my feet hit the ground at the bottom.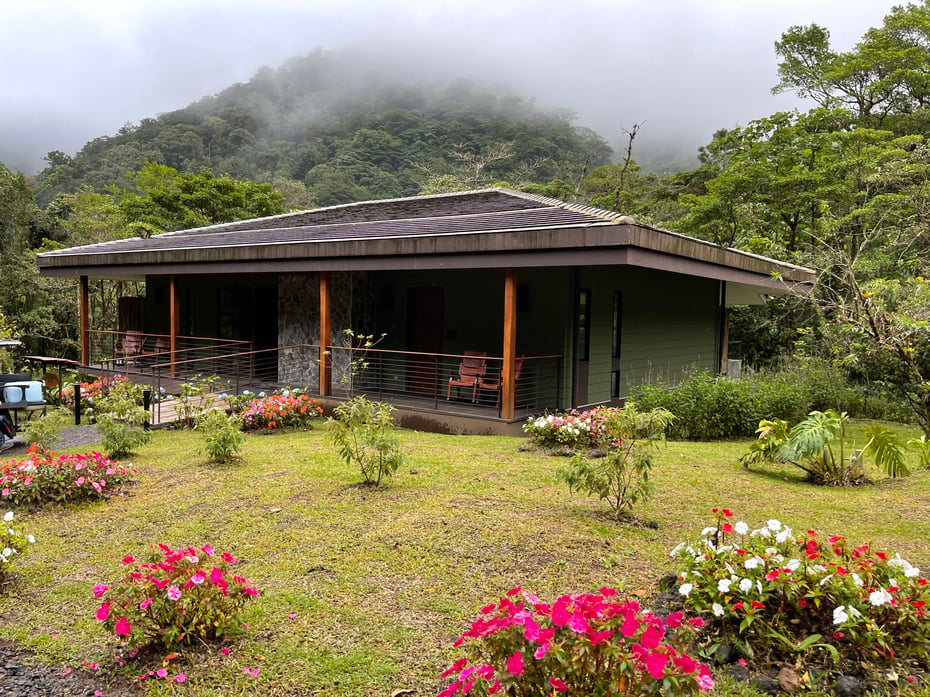 Day 4- Onward to Arenal
After such an amazing stay at El Silencio I wasn't sure this trip could get any better and I'd soon realize just how wrong I was. Today after an early breakfast we headed down to the Arenal Volcano and the town of La Fortuna. Upon arrival at Nayara Springs & Gardens I was amazed at how lush and extravagant the property was. I was one of the extremely lucky guests to be in the Tented Camp section of the resort. In my opinion I had the best room on the resort. I had my own private heated plunge pool with grand views of the Arenal Volcano, outdoor shower, huge 2 person bathtub, and ultra luxe decor.
Day 5- Arenal Adventures
Adventure & Explore seemed to be the motto this day. We went to the Sky Adventure Park and started our adventure with a nature hike to find some amazing hanging bridges flowing in the wind atop the rainforest canopy. After our hike we really started getting daring and complete their 8 segment zipline course with names such as "Oh My God", "Speedy Gonzales", "Big Mama", and "Big Papa". The last of which was 1/2 a mile long and by far the scariest! This day was full of adrenaline filled fun, but after I was ready to relax and soak in my own private infinity pool overlooking the Arenal Volcano (top picture).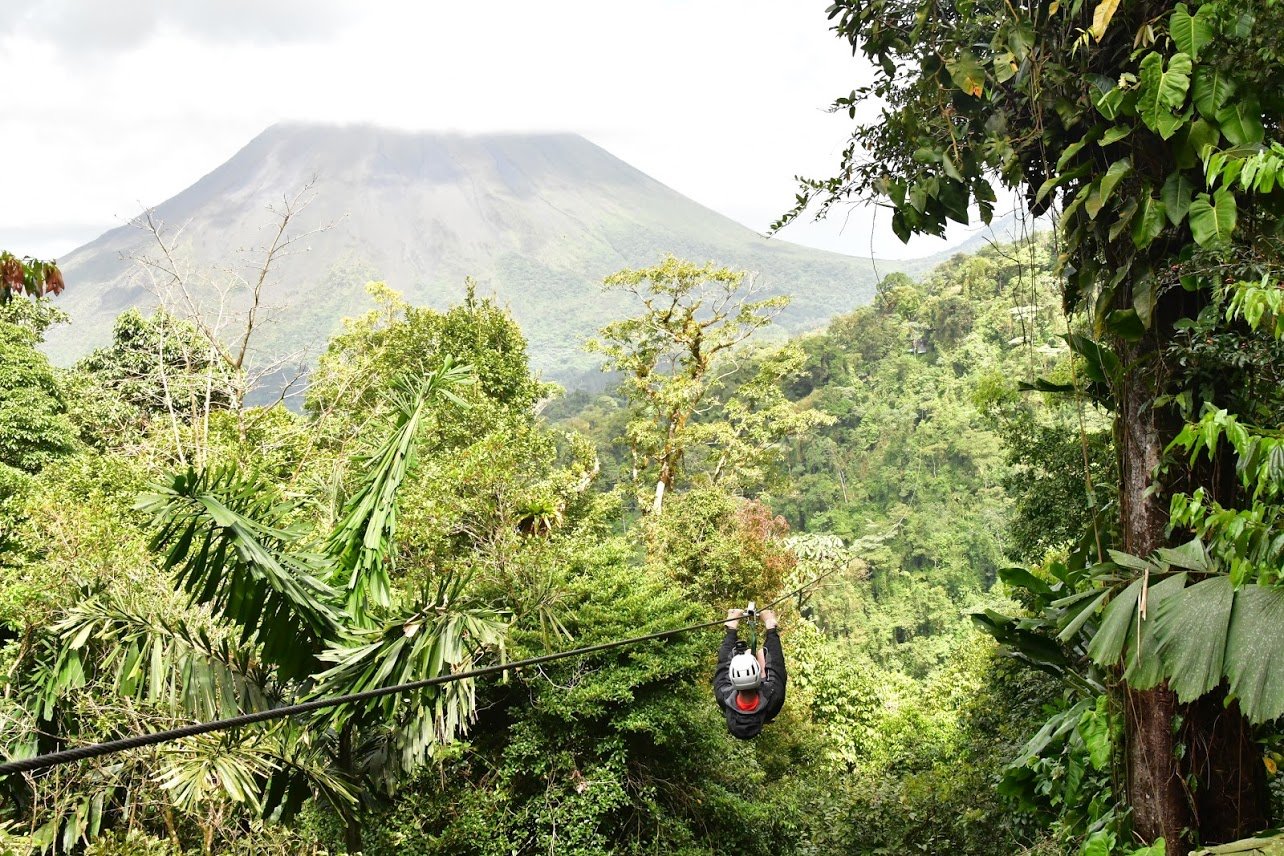 Day 6- Meet Me In Manuel Antonio
After an early breakfast, my friends and colleagues had to almost drag me kicking and screaming away from this amazing resort because I could have stayed there forever. We headed to Manuel Antonio to end our Costa Rican Adventure on the beach to soak up some rays. On the way we stopped for a Crocodile & Bird Watching river safari! It was such a fun experience I deemed myself a professional bird watcher afterwards. We finally arrived at Arenas Del Mar Beachfront Resort and called it an early night.
Day 7- Beachin'
Today was a very relaxing day. After breakfast we all went and donned our swimwear and went to grab some loungers along the shoreline. We didn't have a care in the world except for the Sunday scaries of returning back home tomorrow. We spent the day with plenty of drinks and some amazing food delivered to us on our beach chairs (can you say spoiled?). We even had a few little furry friends (capuchins & squirrel monkeys) visit our balconies trying to steal our sugar packets from our minibar. Our last night we wanted to make it special before we all headed our separate ways so we asked our tour guide, Jose who was simply the best throughout this entire trip, for a recommendation for dinner and boy did he pick the perfect spot. Not only was it the best place to view our last amazing Costa Rican sunset, but also some of the freshest and tastiest seafood I've ever had. Which says a lot coming from someone living in south Louisiana.
Day 8- Departure
After a wonderful week in Costa Rica we headed to the airport for our return home flights. It was a bittersweet 'goodbye' with a very excited 'see you soon' as I just simply cannot wait until I return to this beautifully, exquisite country.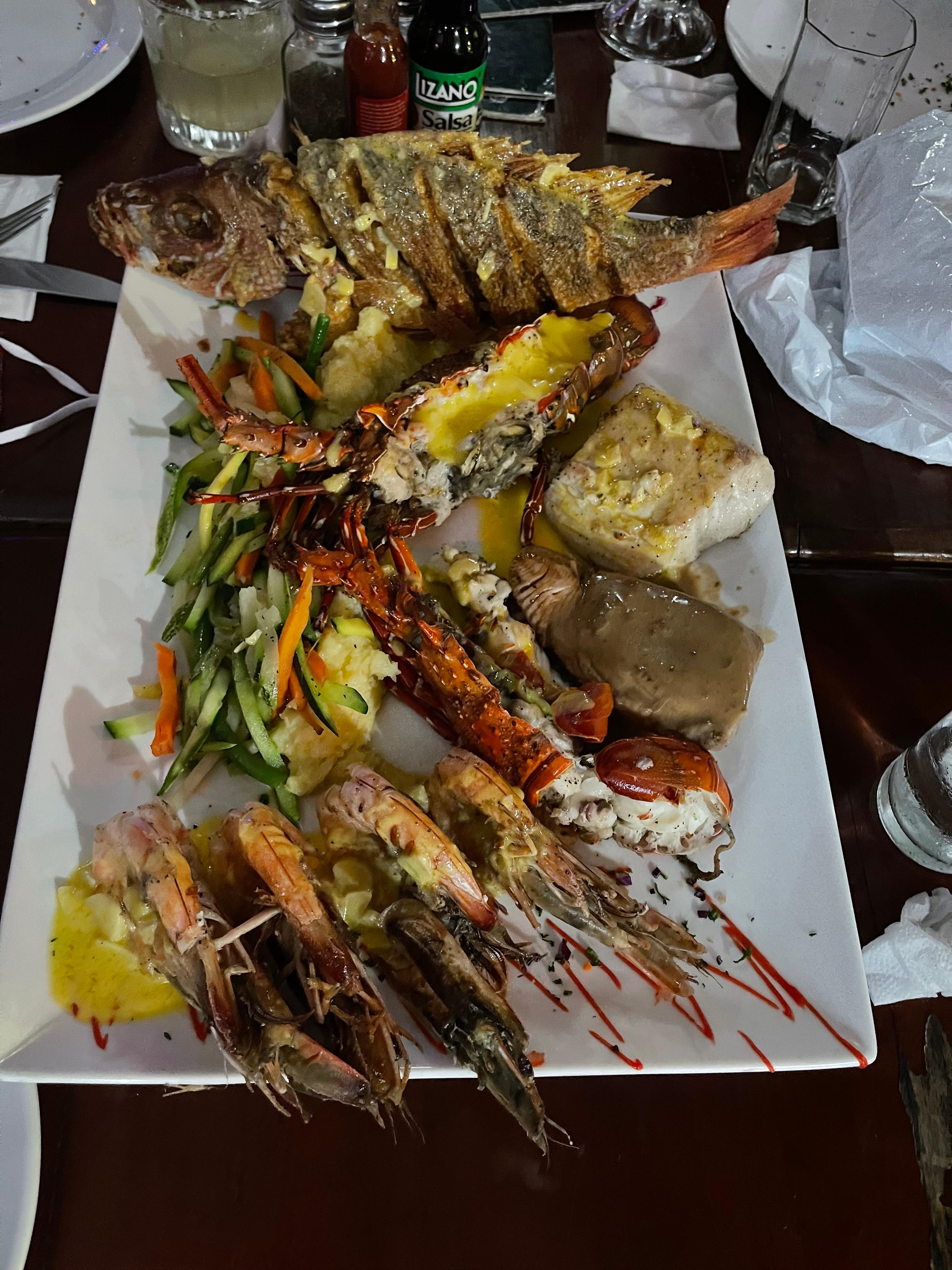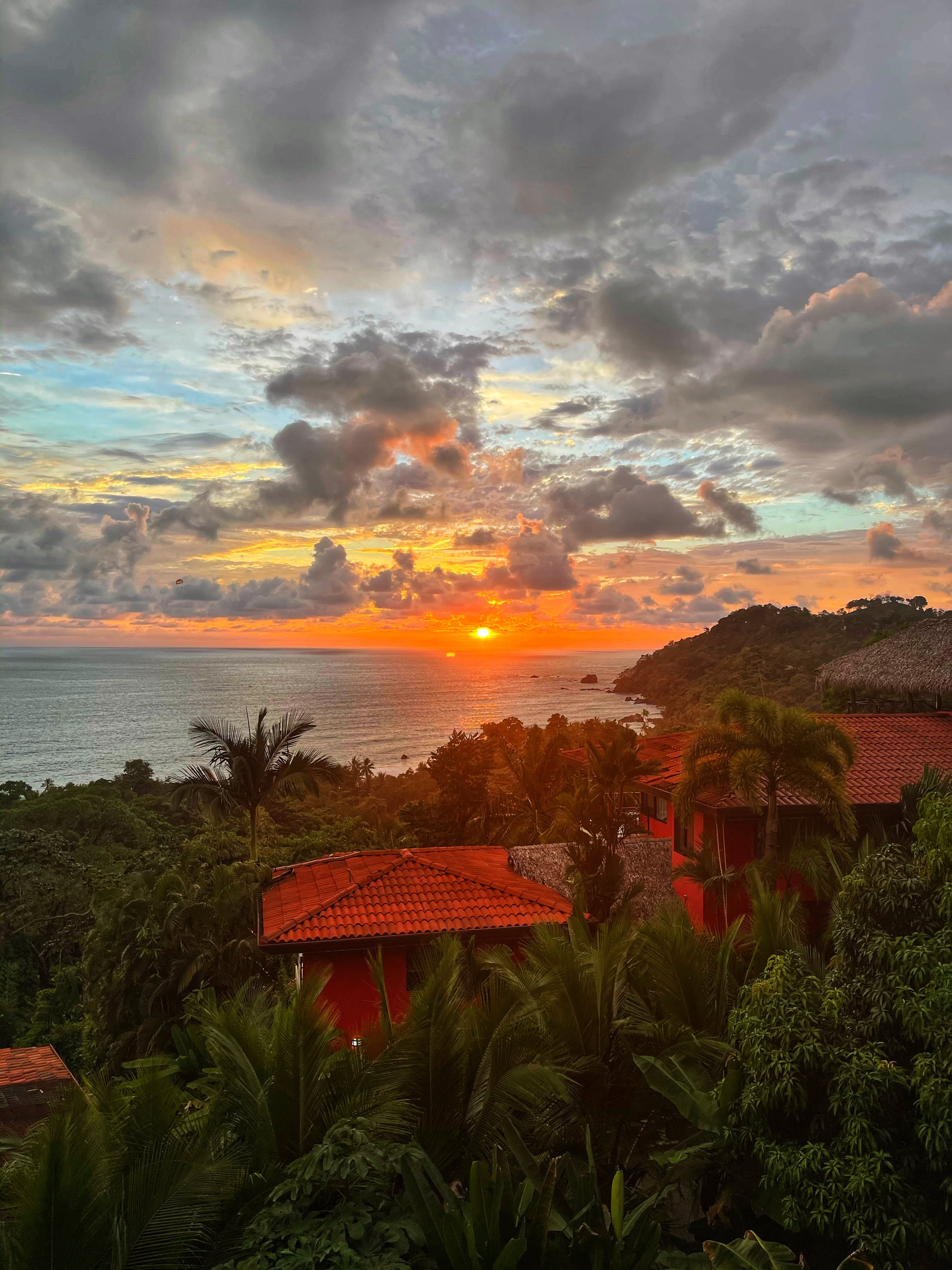 When you're ready to start planning travel again, please reach out to us! VIP Travel Experience is part of the Virtuoso luxury travel network and we have access to amenities that may not be available when booking direct. In addition you receive our personal travel concierge service from the planning travel stage until you unpack your bags when you return home. Your safety and comfort are always our top priority! We are constantly monitoring the COVID protocols and current travel restrictions. Let us take away all the stress of planning your next travel adventure.Email me tammy@viptravelexperience.com and together we can create the best luxury vacation experience for YOU. It's a big world out there -- we hope you EXPERIENCE it.